Superinox
The Superinox vertical washing machin is the full-optional version, designed for intensive use. The solid structure is made entirely of thick stainless steel. All motorization is on the top of the machine, ensuring no contact with water. All functions suck as thickness adjustment, low-e glass recognition, brush speed, productivity reports, diagnostics and remote assistanceare managed automatically or by a powerful PLC.
This washing machine has everything as standard.
MAXIMUM AUTOMATION
via touch screen PLC

DESIGNED FOR INTENSIVE PRODUCTION 
with the possibility of processing low-e and float glass

IDEAL FOR INTEGRATION IN IG LINES
with very delicate low-e glassthanks to under inverter brushes

POSSIBILITY OF WORKING GLASS
low thickness up to 1.8 mm

ENERGY SAVING
and low noise thanks to the standard Ecosave system
Powerful control unit with touch screen

Powerful control unit with touch screen for the management of the machine (speed, thickness, glass type), including error diagnostics, scheduled maintenance, water quality control, water temperature, production data, management of the energy saving.

Brushes with diameter 180mm

Brushes with diameter 180mm for maximum efficiency of the washing process. Complete protection of the bearings of the brushes and rollers with caps and seals. The configuration of the brushes may vary according to the type of glass to be processed. Possibility to adjust the rotation (RPM) of the brushes with dedicated inverters.

Washing and drying section

The washing and drying section automatically adapts to the glass thickness up to 60 mm and, upon request, up to 80 mm for an optimal result. Low-E sensor for automatic opening of the first pair of brushes with hard bristle when a low-E glass enters the machine.

Motorization and transmission

Motorization and transmission with maintenance-free stainless steel axes, placed on the upper part of the machine. Each brush has a dedicated motor with the possibility to add an inverter which adjusts the rotation, for an optimal washing of low-E glass sheets.

Ecosave system

Superinox includes some standard features which ensure a superior level of performance: the patented system Ecosave, reducing the energy consumption up to 60% and the A-Qual system for automatic management of the level of purity of the water.
| | | | | | | | |
| --- | --- | --- | --- | --- | --- | --- | --- |
| Model | Dim. mm | KW | Min. glass dimension mm | Max. glass dimension mm | Glass thickness mm | Speed m/min | Weight Kg |
| Superinox 2062 | 6600 x 3100 x 2700 | 20 | 450 x 190 | 2000 | 3-60 | 1-8 | 2100 |
| Superinox 2662 | 6600 x 3700 x 2700 | 26 | 450 x 190 | 2600 | 3-60 | 1-8 | 2300 |
| Superinox 3362 | 10600 x 4450 x 2700 | 26 | 450 x 190 | 3300 | 3-60 | 1-8 | 2500 |
Legenda
| | | | |
| --- | --- | --- | --- |
| Diamantata | Lucidante | Gomma cerio/feltro | Motore con doppia velocità |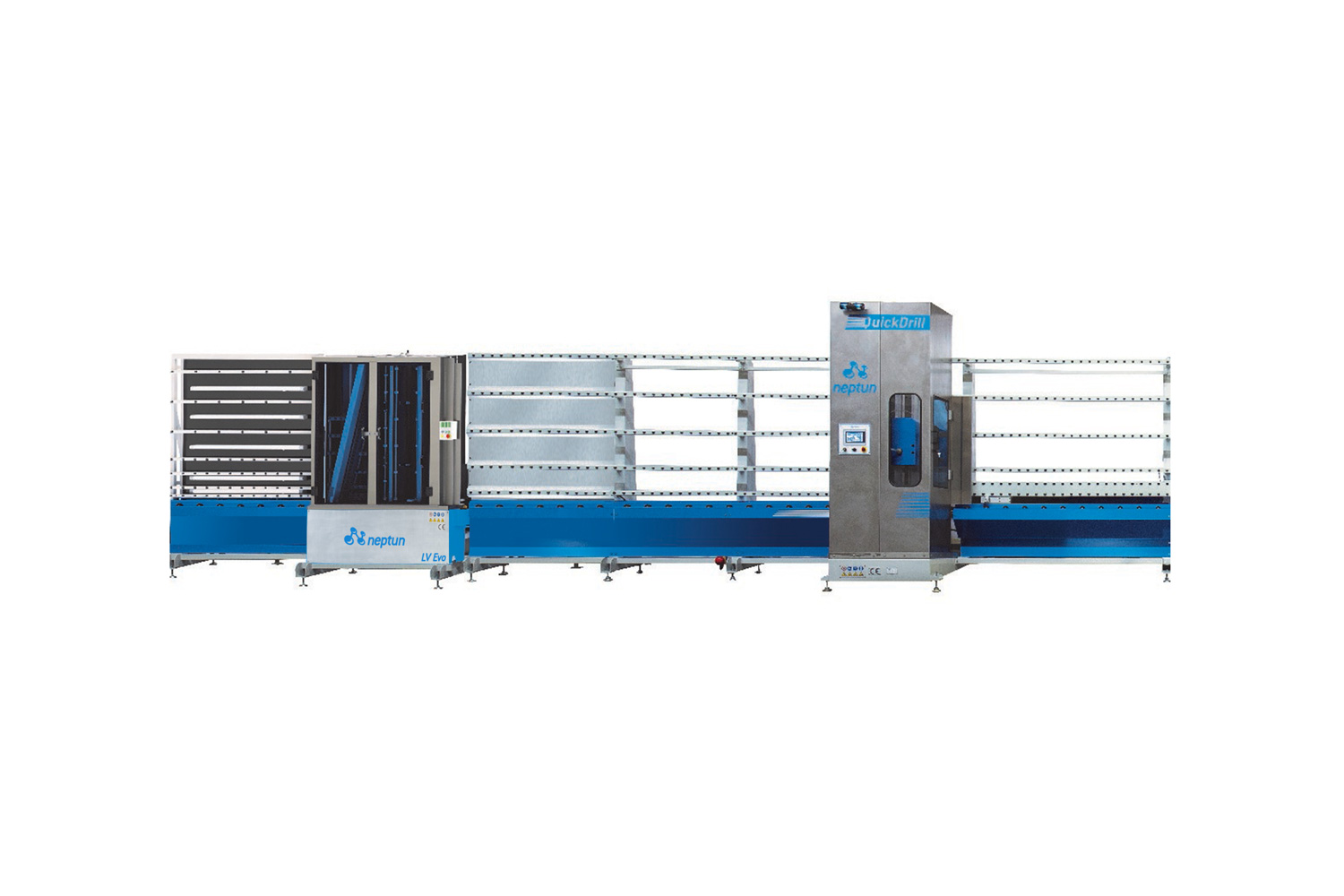 CN centers connection kit
Connection to vertical numerical control centers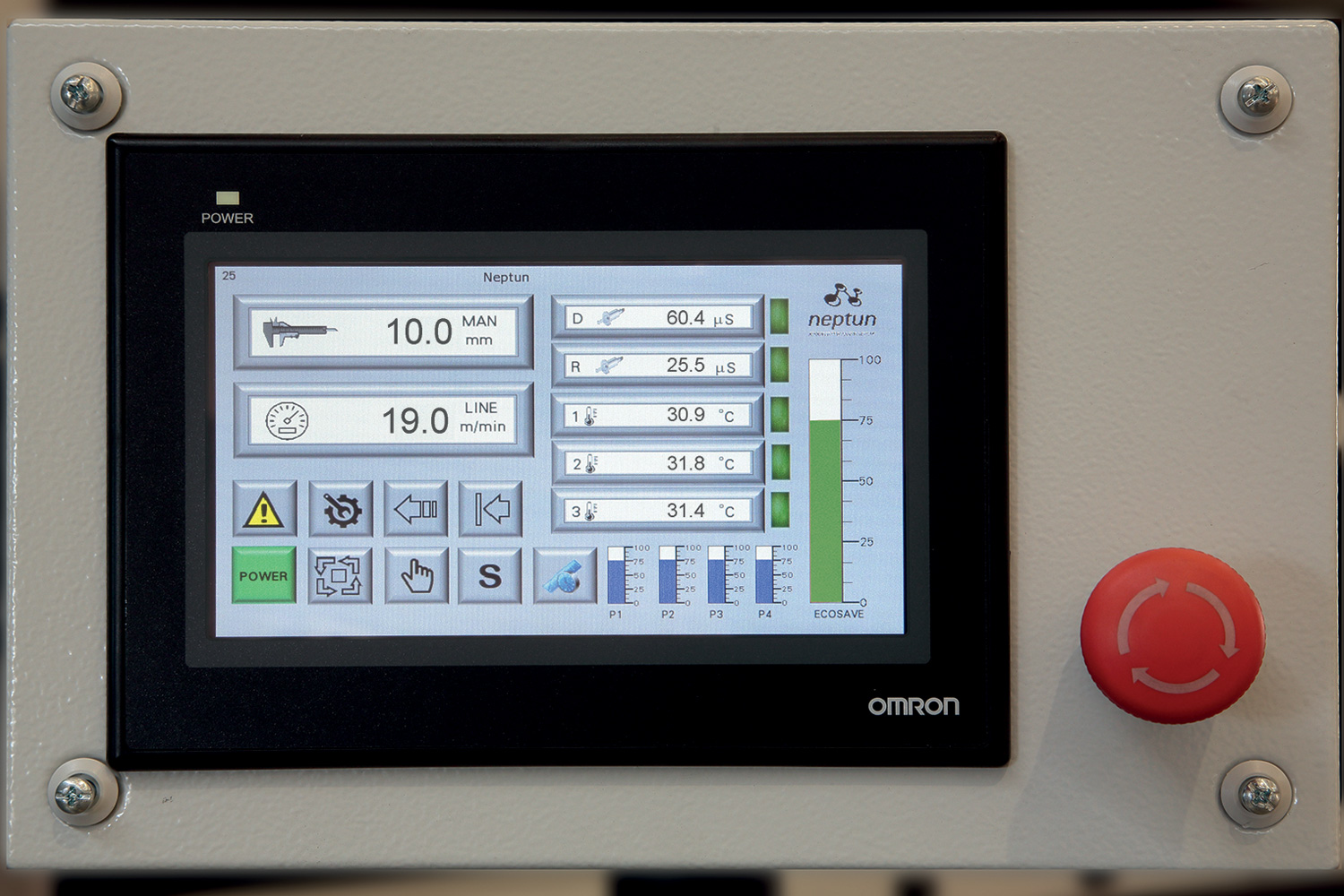 NightCare
At a preset time set on the control panel, the NC activates the automatic emptying of the tanks, at the end of which they are refilled so as to have new water at the beginning of the shift. The function can be set for each day of the week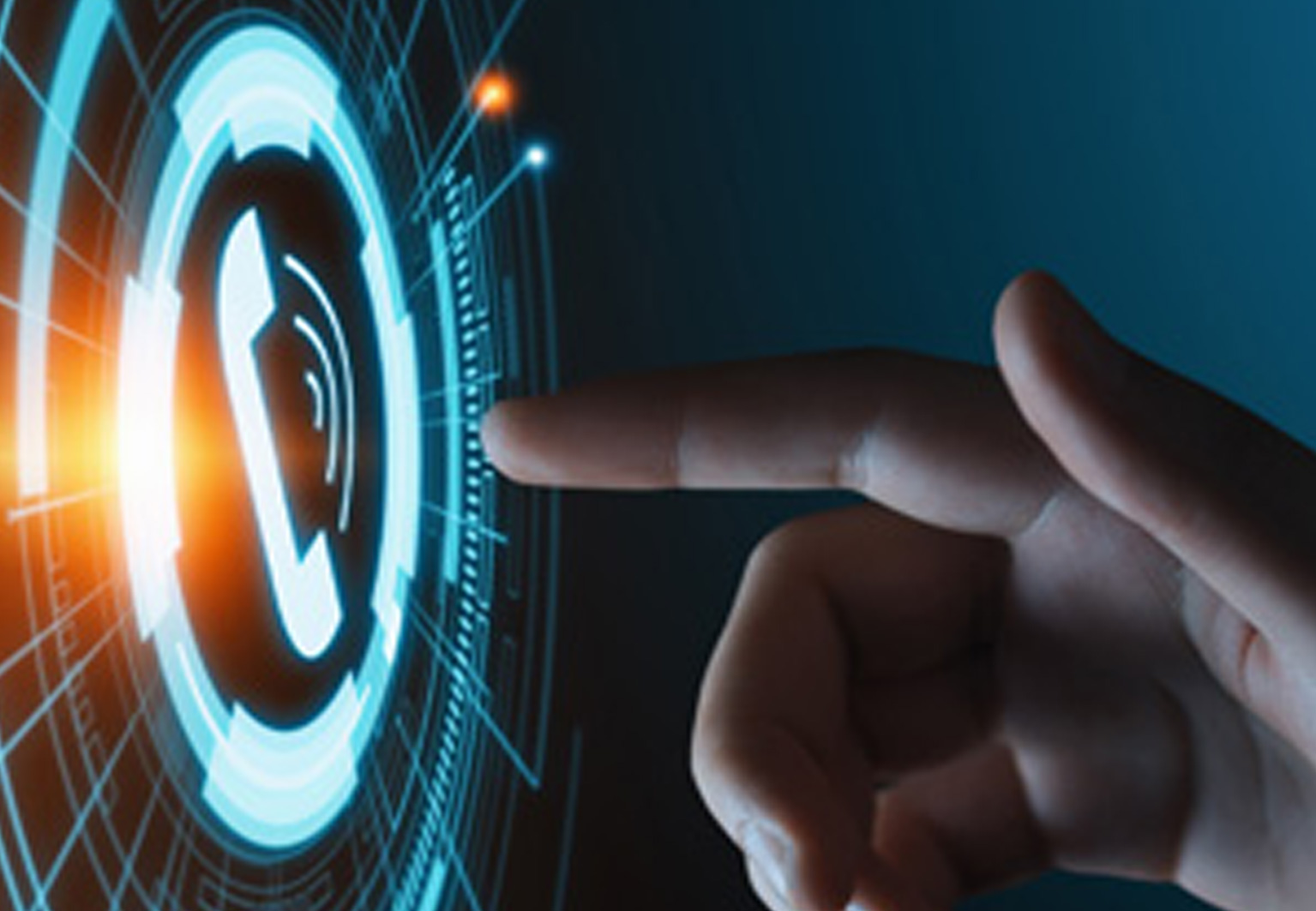 Quickservice
It allows Neptun full access for assistance and updates, not only to the operator panel but also to PLCs, drivers, motors and sensors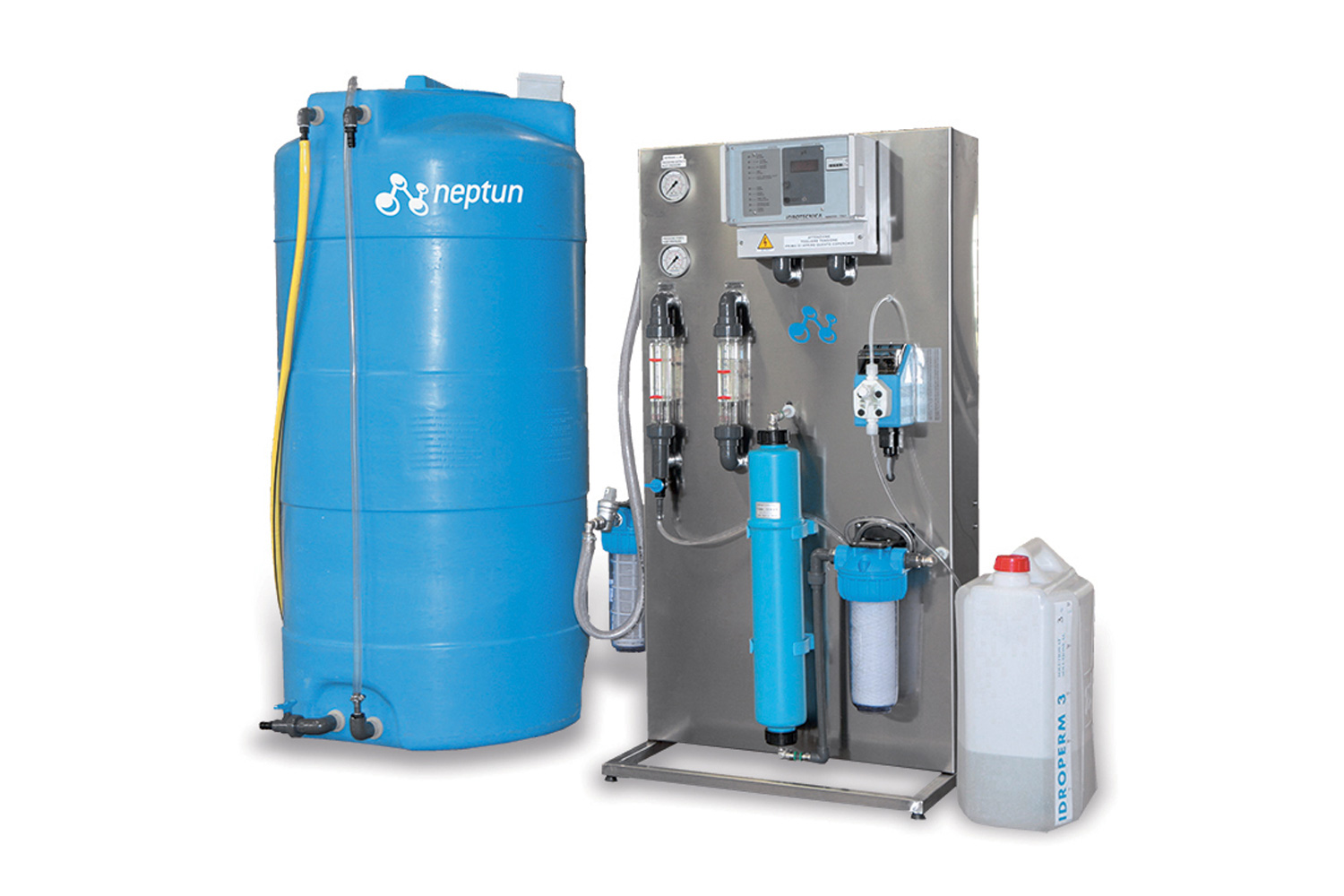 Demineralizer
DEMI series water demineralization plants. Reverse osmosis system, for the generation of demineralized water. Available with production capacity of 190 lt / hr and tank of 500lt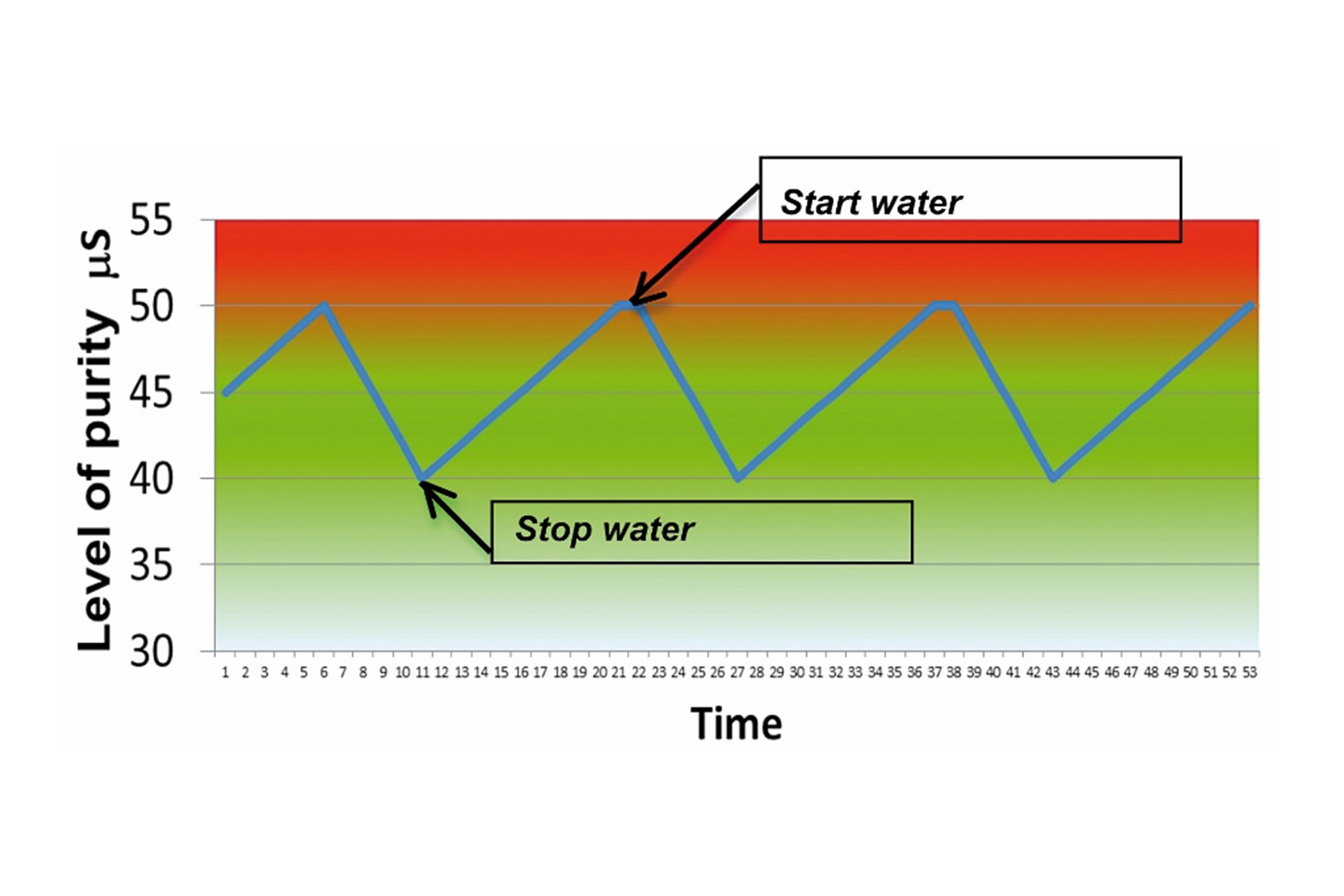 A-Qual
Water circuits that can be configured according to the application, with inlet and outlet filters, pumps and dedicated tank sections. Water quality control and management system, which automatically feeds clean water according to the required level of purity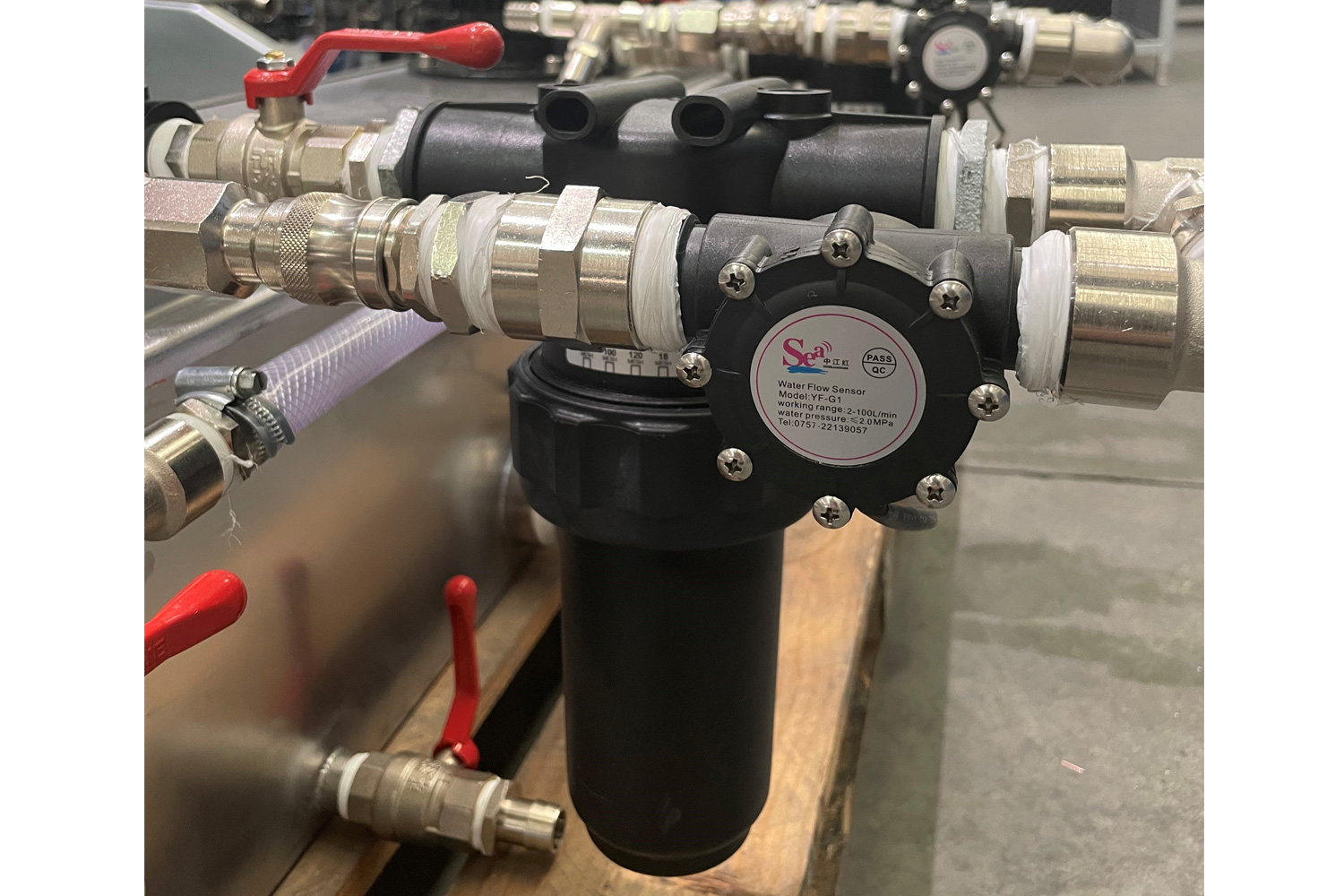 Flow switches
Flow switches to check the filter cleaning status